BUSINESS INCENTIVES AND SPECIAL INTEREST GROUP TRAVEL TO SRI LANKA
In Style Incentives was formed out of the passionate belief that this island has the ability to deliver the kind of unique experiences that can inspire and incentivize people long after the trip is over. The inherent hospitality and friendliness of the Sri Lankan people and the island's varied landscape and natural beauty have fascinated travelers for thousands of years. Sri Lanka is a country that is mysterious, diverse, engaging and uplifting and is able to constantly deliver that 'wow factor' that will not only impress your clients, but have them dreaming about coming back for years to come. At InStyle Incentives we pride ourselves on creating once-in-a-lifetime experiences and the kind of professional service that allows everything to run smoothly, every time.
EXAMPLES OF OUR WORK
InStyle Incentives was formed out of the passionate belief that this island has the ability to deliver unique experiences that inspire and incentivize people long after the journey's end.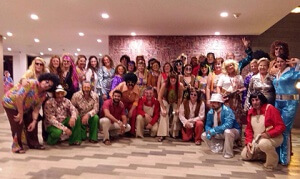 Bantierra
The brief from this client, a Spanish bank, was to organise a stellar trip to promote the success of the bank's 40 most prominent clients. The group traveled around Sri Lanka for 7 nights on a jam-packed adventure stopping in the hill country capital of Kandy, the ancient cities of the Cultural Triangle, and the beautiful shores of the Galle Coast. The trip included a CSR program with a local foundation for children, a private party on a train, a 70s themed party and a pink and orange beach party, and even a tuk tuk race in Kandy!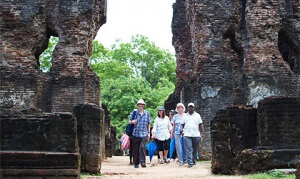 KDMA
Our client required an engaging and active program for 40 highly successful doctors and their spouses, combining unique experiences with luxury accommodation. Over the period of 10 days, we took them on a whistle-stop tour across the island, covering the lively commercial capital Colombo, the ancient cities of the Cultural Triangle, the beautiful peaks of the hill country and the soft white sand and azure waters of the Galle Coast. We surprised them with treks through uncharted trails, scenic boat rides on stunning lagoons, fun themed parties exclusively set up for them, a CSR project with a local charity, and ...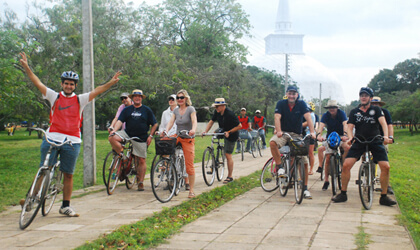 Jaguar
Our first ever incentive, the Jaguar incentive trip was for 40 of Jaguar's best performers from around the world. The trip was based in Galle with extensions into Colombo and connections to some of our most interesting hosts in Colombo, Sigiriya and Galle while buying out the best accommodation in these two locations. They thoroughly enjoyed the theme night at Vil Uyana and on the next day everybody flew down to Galle in a sea plane to stay at the historic Amangalla.
Tasked with organizing a four day educational tour of the country's best restaurants and bars for the Australian Hotels and Bar Association, we based this group of 40 hotel owners from AHA in the south of the country. Activities included local whisky tastings and special hosted culinary tours. They also visited a turtle hatchery where they released baby sea turtles into the Ocean. The gala night at The Fortress hotel was an amazing event, and everyone enjoyed a spectacular cultural dance show.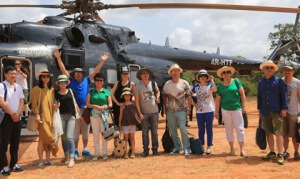 The Chinese Nature Conservancy Group
One of our most upmarket incentives, this weeklong research trip of 30 Chinese conservationists took place in the cultural triangle, the tea country and the south of the island, packing in a heap of experiences and visits to national parks using exclusive jeeps and private air transfers by MI17 helicopters. The leopard sightings in Wilpattu and Yala national parks were exquisite. The theme nights organized at Amangalla and Ulagalla were some of our best creations to date.
We organized a seven day holiday in the south of the country, basing a group of 60 top performers from Konica Minolta in Bentota. While staying in Bentota they privately chartered the vintage Viceroy train to travel to the UNESCO World Heritage city of Galle. We recreated a casino at the Taj Vivanta and built a 'wall of fame' for the top performers. Activities included watersports, tours and a gala prize giving ceremony.
Tasked with organizing an educational trip to shed light on where Sri Lanka is as an island nation and where it's going, we designed CEO, Sri Lanka College – a seamlessly executed eight day incentive to the Cultural Triangle, Galle and Colombo. We combined buyouts of luxury accommodation with exceptional experiences like private dining on the UNESCO World Heritage Galle Fort Ramparts, private train and flight transfers, private Kandyan Pereheras and special hosted dinners and events with thought leaders from the business and political arena.
This five day journey for 42 travelers on an inspection of a production center in the south of the country was a jam-packed incentive journey focused on the Cultural Triangle, Kandy and Bentota. We curated hosted walks through the Kandy town, visits to cinnamon and tea plantations, UNESCO World Heritage Sites, cooking experiences, scenic bike rides and the opportunity to give back to local charities and chartered helicopter transfers throughout the journey.
One of our biggest incentives in recent times, Captain's Choice comprised 300 travelers from Australia stopping off in Sri Lanka for 4 days as their first port of call on a worldwide tour. Our incentive panning included special gala welcome dinners, an extravagant private Kandyan Perehera, private charters of the Viceroy train to Kandy, hosted walking tours to UNESCO World Heritage Sites, personalized shopping experiences, a chance to connect with cricketing great Mahela Jayawardena, charity visits, tours to tea and spice plantations and special insights into the care of captive elephants.
One of our most interesting trips, this seven day journey was built around an educational program themed on women's empowerment in a local context. We organized seven days in the south of the country, basing our ladies group in Galle and bringing in local resources of women in influential and important roles from various fields to talk about women's rights, empowerment and the issues that Sri Lankan women are faced with today. Activities included plucking tea with the tea plucker's in the south and learning how to drape sarees.